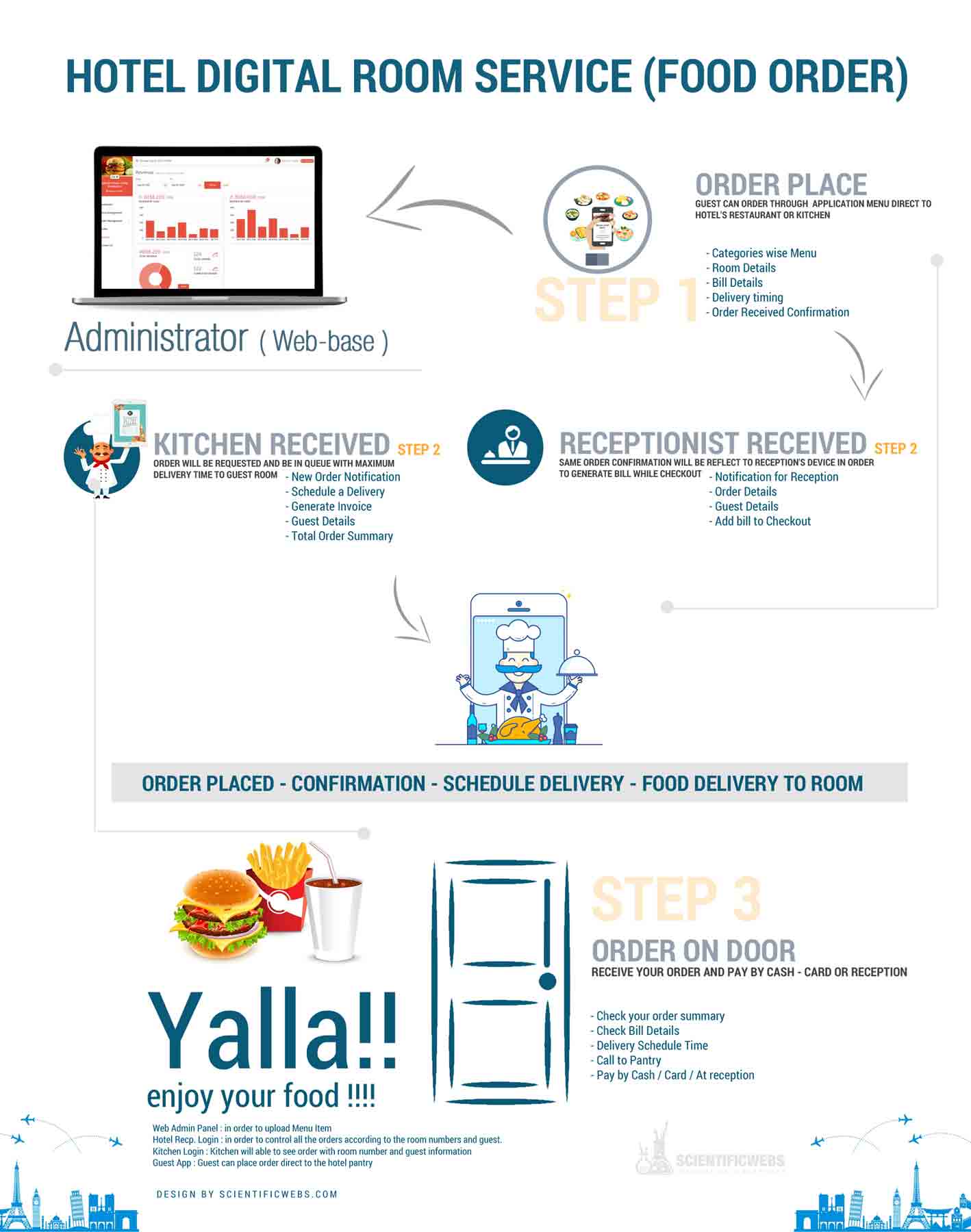 Hotel Digital Room Service System
Hotels should enhance the digital room service system
A hotel represents the height of hospitality. It's a guest's home away from home, a vacation hub, a meeting place, and a relaxing retreat. In the past when guests needed room service, they called the reception desk for order room service. Today they can put in their orders via a digital room service mobile app directly using their smart phones. Customer expectations and behaviors have changed. Soon smart phones will play an enormous role in any hotel stay starting from check-in and pervading through the entire stay.
How mobile App can change Users/Customers experience
One of the biggest issues facing traditional in-room dining services is the discontinuation of communication between the hotel and guest once an order is taken. Technology allows the hotel with room service to keep guests updated with notifications and alerts, for information on food arrival time and about any special requests made.
With clearer communication, language barriers often experienced via phone are mitigated, allowing for greater accuracy and reducing overall complications of orders. By digitizing the in-room menu, hoteliers can add images of the food they are offering, which has been proven to increase orders.
These are the following benefits of Digital Room Service:-
1. No more language misunderstandings
Traditionally, room service menus do not stand out for their aesthetic appeal. In past, for order something guests need to called the reception desk. No longer does it make sense to reach for a bedside phone to order breakfast; now, with a hotel smart phone app, guests have freedom to choose whatever they want during a hotel stay. With the digital room service Guests have the opportunity to choose among varieties of meals. Upload full HD pictures of the offered dishes to give them a proper presentation and increase orders.  No more language misunderstandings!
2. Special offer on Special days
With mobile room service let your hotel guests benefit from the special offers and happy hours at the restaurant. On home page you can show special offers/discount to attract more guests' attention.
3. Convenience of payment
You can pay by cash or card when you received order or you can pay at the time of checkout.
4. Feedback
Collects feedback from guests using the app, can offer useful insights about their behavior and preferences. You can learn how users interact, what kind of services they are using more and what they order. Use these data to boost guests' favorite meals and discounts.
5. Managed everything
Now you don't have to worry if you have the proper staff to support peak times. A mobile room service system can help to improve hotel staff efficiency, as there will be fewer direct interactions with them. This app connects hotel and guests, and makes it easy to organize staff participation. No more missed calls at the reception!
6. Communication is the key
Hoteliers can boost their digital room service without feeling that they might annoy guests. You can tell guests about breakfast discounts, special menus and exclusive offers using push notification. This ordering system, that just requires a few clicks, simplifies the purchasing process and boosts turnover.
By updating a hotel's in-room service with technology, hoteliers can offer guests with better quality service to further increase their experience and ancillary revenue. With the right technology and resources hotels can support and improve the traditional amenity of in-room dining.